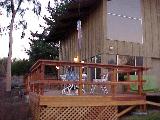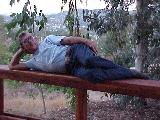 Under the loving and inspiring leadership of Jimmy Duke, who has been a long-time supporter of acoustic and instrumental music, DARK-THIRTY PRODUCTIONS was born. Taking its name from the time concerts begin, thirty minutes after it gets dark, and nestled amid a grove of swaying eucalyptus trees in the aptly named Eucalyptus Hills section of Lakeside, California, just a 25-minute drive from downtown San Diego, house concerts are held in this tranquil setting some eight to ten times each year, with the help of a group of sponsors and staff.
Guests enjoy some of the finest local and touring performers of acoustic folk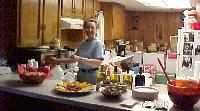 and instrumental music. Admission to each concert includes complementary buffet of hot and cold foods, wine, beer, soft drinks and other beverages, desserts and coffee. House concerts are a great way to enjoy performances in an intimate, cosy setting, while meeting people of similar interests and making new friends. Kindly note that the house opens at 6:30 p.m. for refreshments and socializing, and performances start at 7:30 p.m. For any questions or more information, please send email to Jimmy Duke by clicking here.
All photos may be enlarged by clicking on each one.